The Food not Bombs Kitchen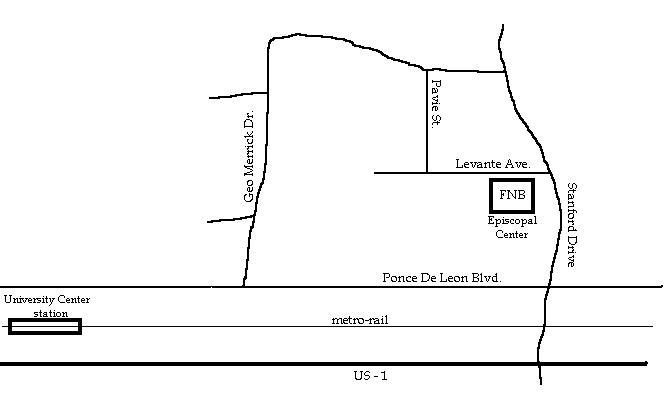 The new FNB kitchen is located at the Episcopal Church Center (ECC) on the University of Miami campus. Meeting time is Sundays at noon.

The ECC is located at the Stanford Drive entrance to the campus, on the corner of Stanford and Levante. As you enter the campus, the first building on your left is the Hillel Jewish Student Center; ECC is the second building on the left. Although it is located on Stanford Drive, all you will see from that angle is a coral stone wall (the side of the chapel). The ECC entrance is around the corner on Levante. Just follow the red brick sidewalk up into the chapel patio: the kitchen is straight ahead.

Getting to the kitchen:

Address
The Episcopal Church Center at UM
1150 Stanford Drive, Coral Gables, FL 33146

Driving Directions

Going north on US-1
Make left at Stanford Drive traffic light (main UM entrance)
Next immediate traffic light is Ponce De Leon Blvd.
Continue on Stanford Drive to main UM entrance
Left lane of main UM entrance does not require UM I.D.
Enter through left lane and make first left onto Levante Ave.
ECC will be on your left (the pointy building off Levante Ave.)
Make first left into parking lot where parking should be available
Follow the red brick walkway into the ECC patio, kitchen is straight ahead

Going south on US-1
Make right at Stanford Drive traffic light (main UM entrance)
Next immediate traffic light is Ponce De Leon Blvd.
Continue on Stanford Drive to main UM entrance
Left lane of main UM entrance does not require UM I.D.
Enter through left lane and make first left onto Levante Ave.
ECC will be on your left (the pointy building off Levante Ave.)
Make first left into parking lot where parking should be available
Follow the red brick walkway into the ECC patio, kitchen is straight ahead

Metro-rail

ECC is walking distance from the University station
Walk north on Ponce to Stanford Drive
Make a left onto Stanford Drive
Make the first left onto Levante Ave.
Episcopal Center will be immediately on your left
Follow the red brick walkway into the ECC patio, kitchen is straight ahead